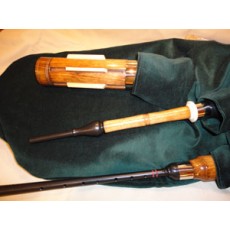 Product Code:
Shuttle Pipes - 3 Drone
Mouthblown in the key of A, full and well-balanced with bass, baritone and tenor drones. Highland Bagpipe fingering on a polypenco chanter. Finished in either a natural (light) or dark stain. We stock the dark stain. Trimmed in brass and imitation ivory. Synthetic pipe bag is provided along with bagcover (available in navy, black, hunter green, red or burgundy).
Price is subject to change!